EXPANDED COVID TESTING
Beginning this Thursday, April 30, at all testing locations, people age 65 and older as well as healthcare or public safety workers can get tested even if they are not experiencing any symptoms. This is in addition to residents who are experiencing at least one COVID-19 symptom (fever, cough or shortness of breath). For more information on upcoming testing events visit the County's website at http://sbcovid19.com/community-drive-through-events/
For more information on the City's response to Covid-19, visit the City of Redlands website at https://www.cityofredlands.org/coronavirus-covid-19
HELP FOR SENIORS WHO DON'T HAVE AIR CONDITIONING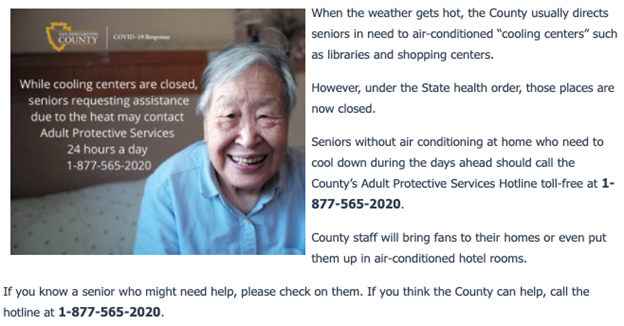 COMMUNITY FOOD STATIONS UPDATE
It is hard to believe, but we are going into our sixth week of providing food to our unsheltered neighbors and families experiencing food shortages.  As of Sunday, April 27th, you all have made it possible to provide over 5,000 meals.  As the "sheltering in place mandate" stretches on, we are seeing more and more individuals and families accessing our food stations.
Some of you have shared with us that not everyone is able to travel to the food stations to donate food but would like to mail a monetary donation to support our efforts.  With that in mind, you can make your check payable to the Redlands Charitable Resources Coalition (RCRC) and send it to the following address:  P.O. Box 8157, Redlands, CA  92375.    
We are excited to share that the "United Sikh Mission" has joined our efforts and is providing hot meals to supplement the lunches.  This means that we can provide two meals to each recipient.  The extra food is much needed and is a tasty addition to the lunches.
The following information is just to remind us when and where the food stations are operating and what to put in the lunch sacks:
All three sites continue to operate every day from 11am-1:00pm at the following locations.
First United Methodist Church, 1 E. Olive Ave., Redlands, the actual point of distribution will be in the parking lot behind the church which is accessed off Vine St.
Banned Board Shop on North West corner of Stuart and Orange St. in the parking lot behind the store.
Kmart (Redlands Blvd.) parking lot.
We recommend that sack lunches consist of the following items:
2 sandwiches (baloney and cheese, P& J, tuna, etc.)
2 fresh fruits
2 snack type foods (chips, crackers, granola bar, etc.
2 desserts (cookies, candy bar, etc.)
Water & napkin
Got Toilet Paper?
All 3 sites are still accepting toilet paper donations.  One roll is greatly appreciated.  This donation is to assist our 14 transitional houses that provide services to a wide variety of at-risk populations.
WOMEN OF FAITH UPDATE
Jeans says that 1,018 masks were delivered to her by her seamstresses (aka the Mad Mask Makers) last week for a total of 2,622 masks!  She has also had a request from the dialysis unit at LLUMC for scrub caps, so right now her group is also making 38 scrub caps.
One of their recent projects was making masks for the City of Redlands for seniors who request one through the Never Alone program.  Recent deliveries have included San Bernardino School District, Ronald McDonald House, Susan G. Komen Cancer Center, Mercy House Big Bear Hospital (children's masks).
It seems that the need for masks will be ongoing, and if you haven't yet helped but would like to, you are still needed.  Just contact Jean at jeanarnott@gmail.com. She has kits of 10 to 20 ready-to-sew masks.
COVID-19 TESTING
From VOAD: San Bernardino County Department of Public Health (DPH) is providing daily walk-in COVID-19 testing at the following County Health Centers which provide services for underserved and vulnerable populations: 
Hesperia Health Center
16453 Bear Valley Rd., Hesperia
Ontario Health Center
150 E. Holt Blvd., Ontario
San Bernardino Health Center
606 E. Mill St., San Bernardino
Adelanto Health Center
11336 Bartlett Ave., Suite 11, Adelanto

To learn more about the Health Centers' patient qualifications and how to make an appointment, click on the link below.
Testing Locations Week of April 27, 2020
Monday through Friday – Arrowhead Regional Medical Center
400 N. Pepper Ave., Colton
8:00 a.m. to 4:00 p.m.  Appointment ONLY, call 1(855) 422-8029
Monday through Friday – SAC Health Systems (IEHP Members only)
250 South G Street, San Bernardino
9:00 a.m. to 4:00 p.m.  Appointment ONLY, call (909) 771-2911
Tuesday, April 28 — Arroyo Valley High School
1881 West Baseline St., San Bernardino
10:00 a.m. to 2:00 p.m. Appointment ONLY, all appointments filled
Wednesday, April 29 – Citrus Valley High School
800 W. Pioneer Ave., Redlands
10:00 a.m. to 2:00 p.m. Appointment ONLY, at
http://sbcovid19.com/community-drive-through-events/
Thursday, April 30 – Civic Center Park
14999 Dale Evans Pkwy., Apple Valley
10:00 a.m. to 2:00 p.m. Appointment ONLY, at
http://sbcovid19.com/community-drive-through-events/
Friday, May 1 – Hesperia Civic Plaza Park
15833 Smoke Tree St., Hesperia
10:00 a.m. to 2:00 p.m. Appointment ONLY, at
http://sbcovid19.com/community-drive-through-events/
County Public Health is also conducting testing at select nursing facilities for at-risk seniors living at those facilities.
FOOD PANTRY FOR OLDER AND DISABLED ADULTS
See the flyer below for the DAAS Food Pantry program to provide food commodities to our seniors and disabled adults within our communities.  Please feel free to refer the senior to SIA numbers on the flyer so that we can coordinate delivery of food commodities to them.   The food commodities are Non-Perishable items such as grains, nuts, beans, canned chili, canned chicken or pork, canned vegetables, peanut butter, soups, and juice.
DAAS Food Pantry FINAL 04202020