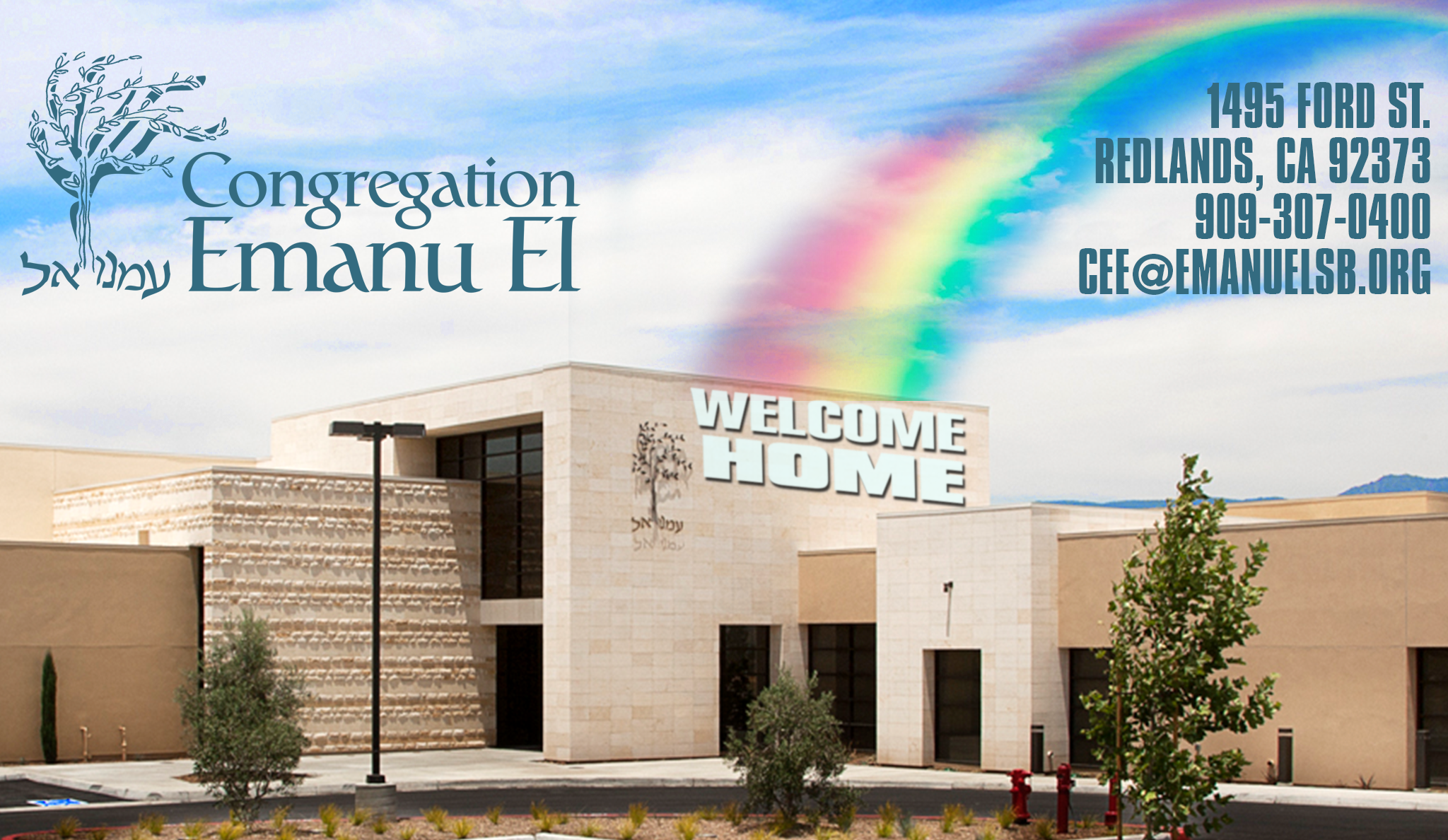 IN-PERSON SERVICES RESUME JUNE 18
Masking and Physical Distancing are required at all in-person services for the protection of those who are still vulnerable until the community spread of the virus is further reduced.
Services will still be available on Zoom for those who choose to attend remotely!
Need to dial in? Call 669-900-6833 and use meeting ID 501 987 6154 and passcode 472615.
This week at Congregation Emanu El
Friday, June 4, 6:30pm:
Erev Shabbat and Installation of Officers
with Rabbi Reznick and Cantor Bern-Vogel
Saturday, June 5, 10:00am:
Torah Study (Zoom Only)
Friday, June 11, 6:30pm:
Shabbat B'Yachad
with Rabbi Reznick and Rick&Addie Lupert
Friday, June 18, 6:30pm IN PERSON:
Erev Shabbat Service
with Rabbi Reznick and Cantor Bern-Vogel
Saturday, June 19, 10:00am:
In-person services may or may not take place on this date
Shabbat Morning Service
with Rabbi Reznick and Cantor Bern-Vogel
Friday, June 25, 6:30pm IN PERSON:
Erev Shabbat Service
with Rabbi Reznick and Cantor Bern-Vogel

Learn about this week's Torah Portion
DONATE VIA PAYPAL
UPCOMING EVENTS
Mon, May 31: Temple Office closed for Memorial Day
Wed. Jun 2: Jew-Curious Class on Exploring Judaism, 6:00pm
Thu, Jun 3: Sacred Story with Heidi Nimmo, 10:00am
Fri, Jun 4: Erev Shabbat with Installations, 6:30pm
Sat, Jun 5: Torah Study, 10:00am
Wed, Jun 9: Jew-Curious Class on Exploring Judaism, 6:00pm
Thu, Jun 10: Sacred Story with Heidi Nimmo, 10:00am
Wed, Jun 16: Jew-Curious Class on Exploring Judaism, 6:00pm
Thu, Jun 17: Sacred Story with Heidi Nimmo, 10:00am
Wed, Jun 23: Cantor's HHD Torah Chanting Prep Class, 3:00pm
Thu, Jun 24: Sacred Story with Heidi Nimmo, 10:00am
Mon, Jun 28: Sisterhood Book Club, 7:00pm
Wed, Jun 30: Cantor's HHD Torah Chanting Prep Class, 3:00pm
Visit Congregation Emanu El
1495 Ford Street, Redlands
Home of Eternity Cemetery
801 N. Sierra Way, San Bernardino