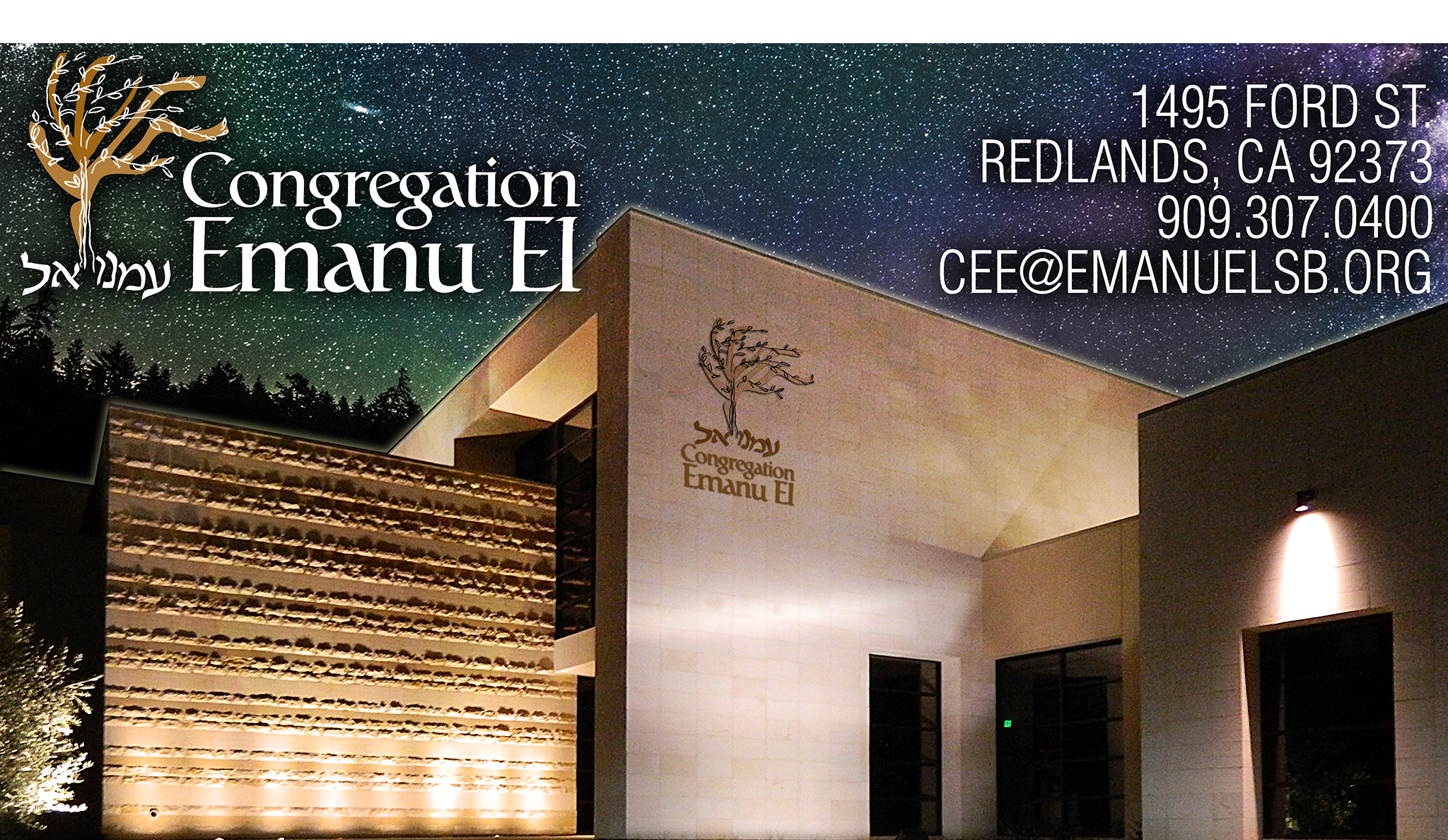 This week at Congregation Emanu El

Shabbat B'Yachad
Friday – October 11, 2019 – 6:30 pm -7:30pm
Led by Rabbi Reznick and Musical Guest, Rick Lupert
Oneg Shabbat following the service hosted by Paula Kaye as a Cancer Free Celebration
There is no "regular" service after Shabbat B'Yachad. Please join us at 6:30 for a service everyone can enjoy.
Saturday – October 12, 2019
NO TORAH STUDY
NO SHABBAT MORNING SERVICE
Parashat Ha'Azinu – – Deuteronomy 32:1 – 32:52
Haftarah – II Samuel 22:1 – 22:51
HIGH HOLY DAY SCHEDULE
KOL NIDRE: Tue. Oct. 8, 7pm
YOM KIPPUR: Wed. Oct. 9, 9:30am
YIZKOR: 1pm
MARTYROLOGY: 2:15pm
MINCHA: 3pm
NEILAH: 4:45pm
followed by Break-the-Fast provided by Sisterhood
Visit Congregation Emanu El
1495 Ford Street, Redlands
Home of Eternity Cemetery
801 N. Sierra Way, San Bernardino
Helpful Information
Our Sisterhood Gift Shop is now open in the Temple Lobby! The hours are Wednesday from 4-6pm and Sunday, 9:30-11:30am!


DON'T FORGET YOUR SCRIP!     NOW AVAILABLE IN THE TEMPLE OFFICE! 

Scrip is available for grocery stores, retail stores, dining out, and much much more, at no additional cost to you! Scrip is great for everyone on your list! It's quick and easy.

Scrip can be purchased at the Temple Office or at shopwithscrip.com.

Download a list of what's available in the office by clicking here.

Click here for details including downloadable information about shopwithscrip.com

Your contributions to our synagogue are always greatly appreciated! For your convenience, we have made it possible to download the donation form online. Please mail this form to the tem
ple with your check enclosed. Of course, you are still welcome to call the temple office to make your donations.

Thank you so much for your generosity!