Cantor Jennifer Bern-Vogel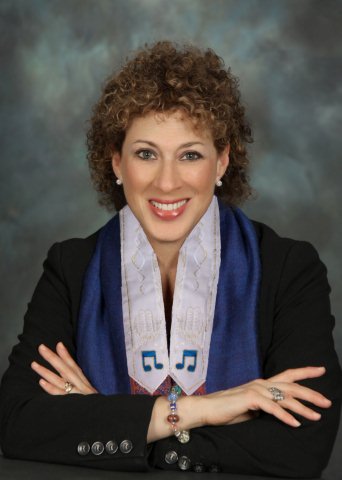 A member of the American Conference of Cantors [ACC] Cantor Jennifer Bern-Vogel served Ohef Sholom Temple in Norfolk, Virginia, the largest and oldest reform congregation in southeastern Virginia from 1996-2009. Cantor Bern-Vogel feels blessed to have transitioned from one historic congregation to another – from east to west – and was honored to be part of the transitional team helping Congregation Emanu El relocate from San Bernardino to Redlands, which she has served since 2009.
Cantor Bern-Vogel is passionate about bringing worshippers an eclectic representation of musical genres, inspiring them to greater spiritual heights of prayer reflection, contemplation and celebration throughout the yearly calendar cycle from Shabbat services to Life Cycles, Festivals and the High Holy Day season. Cantor Bern-Vogel assists committee chairs on Sisterhood programming and important social justice issues, with particular emphasis on the promotion of the URJ [Union of Reform Congregations] BRIT OLAM pledge. Cantor Bern-Vogel produces annual Cantor's Concerts with many of her talented colleagues and friends from across southern California. One of her greatest joys is teaching Torah chanting skills and other sacred texts to students of all ages.
In addition to offering pastoral counseling, presiding at Life Cycle events, creating Healing Services, and sacred transitional rituals, Cantor Bern-Vogel is a Board-Certified Chaplain with the Association of Professional Chaplains [APC] and is currently a hospice Chaplain for the Jewish Healing and Hospice Center of Los Angeles. [JHCLA]
Previously trained in opera at the State Conservatory of Music and Theater in Hannover, Germany, Bern-Vogel was Ordained as Cantor from Hebrew Union College – Debbie Friedman Sacred School of Music in 1995 in New York City. While in New York, she performed off-Broadway with the Folksbiene Yiddish Theatre from 1995-1996.
Bern-Vogel was in the second cantorial cohort at the Institute of Jewish Spirituality in 2006; Programming Co-chair of the national ACC conventions for two years after moving to California, and participates in regional conference planning for the ACC, CA [Cantor's Assembly] and GTM [Guild of Temple Musicians.] Cantor Bern-Vogel has been an adjunct faculty at Hebrew Union College and has tutored B'nai Mitzvah students at Temple Isaiah and Pressman Academy [Temple Beth Am] in Los Angeles, where she resides with her greatest fans: her husband, Ira and daughter, Iden.
E-mail Cantor Bern-Vogel directly at cantorjenbv@emanuelsb.org
Rabbi Emeritus Hillel Cohn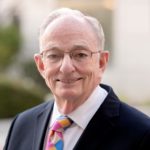 Rabbi Hillel Cohn served as rabbi of Congregation Emanu El in San Bernardino from 1963 to 2001. He returned to lead the congregation for the 2014-2015 year of transition to new rabbinic leadership. Upon his retirement in 2001 he was named Rabbi Emeritus of Congregation Emanu El. A native of Germany, he was brought to the United States as an infant by his parents who were refugees from Nazism. Rabbi Cohn grew up in the Pacific Northwest and Southern California. He received a B.A. in Political Science from UCLA in 1959. His rabbinical training was received at Hebrew Union College in Los Angeles and Cincinnati where he was ordained as a rabbi in 1963 and received a Master of Arts degree. He earned a Doctor of Ministry degree from the Claremont School of Theology in 1984 specializing in ethics and communication. In 1988 he was awarded an honorary Doctor of Divinity degree by the Hebrew Union College. In 2017 he was awarded the degree of Doctor of Humane Letters (honorary) by California State University San Bernardino, the first rabbi to be so honored in the entire California State University system.
Rabbi Cohn came to Congregation Emanu El in 1963 to serve as assistant rabbi to Rabbi Norman F. Feldheym. In 1964 he was named co-rabbi. Upon the retirement of Rabbi Feldheym in 1971 Rabbi Cohn became the senior rabbi of the Congregation. During his tenure he compiled numerous prayer books, oversaw the construction of the Norman F. Feldheym Religious Education Center and wrote two national award-winning curriculums for the Congregation's Jewish education program. On the occasion of his 25th year of service to the Congregation the Social Hall was named the Rabbi Hillel Cohn Social Hall. The Rabbi Hillel Cohn Endowment Fund was also established in his honor. Upon his retirement in June, 2001 Sisterhood established the Rabbi Hillel and Rita Cohn Campership Fund. In recent years he spearheaded the reactivation of a program for senior citizens (Seniors for Seniors) and served as Chair of the Board of Managers of the Home of Eternity Cemetery and Mausoleum.
Rabbi Cohn has been active in many community organizations in the San Bernardino area. He serves as a member of the Diocesan Health Care Committee of the Roman Catholic Diocese of San Bernardino. He was the founding chairperson of the City of San Bernardino Human Relations Commission and currently serves as a member of that commission. He produced and hosted "The Many Faces of San Bernardino: Dialogues on Diversity", a regular half-hour program on KCSB (Channel 3). He was one of the founders of Inland Congregations United for Change (ICUC). He served as a board member of The Community Foundation of Riverside and San Bernardino and is currently in his second six-year term on the Board of Directors of Planned Parenthood of Orange and San Bernardino Counties.
Rabbi Cohn served as Treasurer of the Central Conference of American Rabbis, the national organization of reform rabbis. From 2001-2008 he served as editor of the CCAR Newsletter, the monthly publication of all reform rabbis in the world. He has served as president of the Pacific Association of Reform Rabbis member of the Board of Trustees of the Union of American Hebrew Congregations, president of the National Association of Retired Reform Rabbis and president of the San Bernardino Clergy Association, the interdenominational ministerial group of the area.
He was the founding chairperson of the Inland and Desert Hillel Council which serves Jewish students of the region. He is an advisory board member of the Morrow McCombs Memorial Lecture Committee, and after more than three decades of being a board member of St. Bernardine Medical Center Foundation is now an emeritus director. In 2010 he chaired the Bicentennial Commission of the City of San Bernardino. He is currently a member of the Citizen's Charter Review Committee of the City of San Bernardino.
For the past 35 years he has been a member of the Priest-Rabbi Dialogue, a project jointly sponsored by the Archdioecese of Los Angeles and the Board of Rabbis of Southern California.
In 1996 Rabbi Cohn was one of 5,000 Americans honored for being a Community Hero by carrying the Olympic Torch. Among many other awards he has received are the "Man in the Spirit of Martin Luther King" Award from the African-American Churches of the Inland Empire, the Dale Evans-Roy Rogers Award for a Lifetime of Commitment to the Spirituality of Children from the Loma Linda University Medical Center, Leaders of Distinction Lifetime Achievement Award from the Business Press of the Inland Empire, Community Honoree by the Western Inland Empire Coalition Against Hate. He has also been honored by the Roman Catholic Diocese of San Bernardino and the College of Social and Behavioral Sciences at California State University San Bernardino. In 2017 the annual Rabbi Hillel Cohn Endowed Lecturesip on the Contemporary Jewish Experience was established in his honor at California State University San Bernardino,
A frequent participant on radio and television programs, Rabbi Cohn and Dr. William Loveless co-hosted and produced "Options", a series of televised conversations on contemporary moral and spiritual issues on the International 7th Day Adventist Television Network. He was the producer and host of 50 half-hour television programs on "The Many Faces of San Bernardino." He is a participant in a series of programs on YouTube of the Priest-Rabbi Dialogue..
From 2002-2007 Rabbi Cohn served as the interim rabbi of Adat Ari El, a reform synagogue in Las Vegas. From 2008-2017 he served as part-time rabbi of Sun City Jewish Congregation in Palm Desert.
Rabbi Cohn continues to be called on frequently to speak to religious and civic groups locally and throughout the nation. He is the author of Haggadah for Passover. His sermons have been published regularly in various publications. He authored a chapter in "Toward the Future", a volume on Catholic-Jewish relations.
Rabbi Cohn and his wife Rita live in San Bernardino. They have two children, Elana Cohn-Rozansky and Marc Cohn and four grandchildren, Jeremy and Adam Rozansky and Sarah and Leah Cohn, and two great-grandsons, Samuel and Boaz Rozansky.